Surrender the Grey


by Emma Grant
Rating: NC-17

Summary: Draco Malfoy returns to London after five years of self-imposed exile to start a new life with Harry. But will the secrets of the past destroy everything they've worked for?

Sequel to: Left My Heart . This will make much more sense if you have read that first, though it probably can stand on its own to an extent.

Length: Novel, about 150,000 words

Disclaimer: Not my characters, no copyright violation intended.

First draft: Completed November 2, 2005 (Posted March 2 - November 2, 2005). Links to the firtst draft are at the bottom of this page.

FINAL VERSION: The links below lead to the final version, which was posted January 2007.

Cover art by Mayflo
Notes:
1. Thanks to Jedi Rita, Hazel Hawthorne, and Charlotte Sometimes for betaing the first draft of this story a chapter at a time. Thanks to Jedi Rita, Little Snitch, Tip Gardner, and Lusiology for betaing the second draft (and to Lusiology for Brit-picking as well). HUGE thanks go to all the people who read and commented on the first draft of this story over the eight months that it was written and posted. I can't thank you enough for the support and encouragement! This is for all of you.
2. Even though the backstory of this fic only assumes canon up through Order of the Phoenix, I stole a few cool ideas from Half Blood Prince. Cause they were cooler than mine...
3. Links to art can be found in the text. (Look for underlined phrases.) Please note that an asterisk (*) denotes art that is NOT WORKSAFE.
---
Prologue | Chapter 1 | Chapter 2 | Chapter 3 | Chapter 4 | Chapter 5
Chapter 6 | Chapter 7 | Chapter 8 | Chapter 9 | Chapter 10 | Chapter 11
Chapter 12 | Chapter 13 | Chapter 14 | Chapter 15 | Chapter 16 | Epilogue
Leave a comment | Read comments
Alternate link: Skyehawke

Download Surrender the Grey as an eBook here.
---
Translations:
Spanish by Perlita Negra (also posted here)


Banner courtesy of Charlotte Sometimes
---
Archiving & translations: Please contact me (emmagrant01 AT gmail DOT com) if you are interested in archiving or translating this story.
STG location photos, by Luciology!
Art for Surrender the Grey
Draco, by Evermanella
Draco's Tattoo, by KKR
Harry/Draco by Shu (NC-17)
Harry/Draco by Absinthus (NC-17)
For Part 3 (Auditory voyeurism), by Pastel Ninja (R)
For Part 4 (Uncle Draco), by Pastel Ninja
Unce Draco, by Mayflo
For Part 7 (Draco regrets), by Cormallen (NC-17)
For Part 12 (Harry in the lobby), by Pastel Ninja
For Part 12 (Ron wins the bet), by Pastel Ninja
For Part 13 (Draco and the Find-it-Quick! card), by Pastel Ninja
For Part 14 (Almost a kiss), by Lo Black
For Part 14 (Against the door) by Lodda
For Part 15 (Caught in the act), by Pastel Ninja (Strong R)
For part 16 (Under the sheets), by Cormallen (NC-17)
For the Epilogue, by Cebi Stough
Soundtrack!
Princess Kariboo and Evilimp made a soundtrack for this fic! See the cover art and song list here.
Awards and Accolades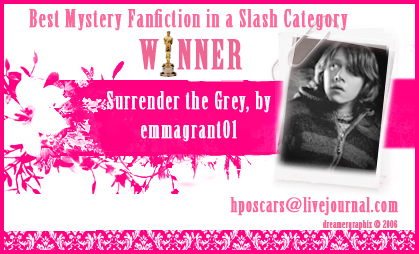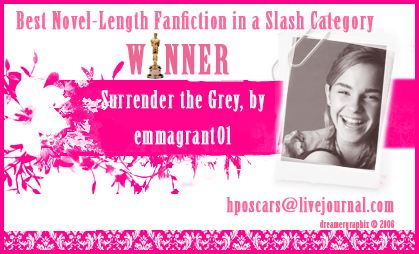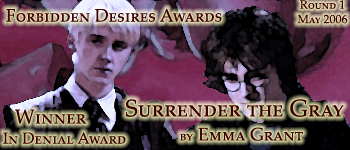 Read the first draft
Part 1 | Part 2 | Part 3 | Part 4 | Part 5 | Part 6 | Part 7 | Part 8 | Part 9 | Part 10
Part 11 | Part 12 | Part 13 | Part 14 | Part 15 | Part 16 | Part 17 | Part 18 | Part 19 | Part 20
Part 21 | Part 22 | Part 23 | Part 24 | Part 25 | Part 26 | Part 27 | Part 28 | Part 29
Part 30a | Part 30b | Epilogue
Comments on the first draft
---
Last Updated 1/15/07